Barcelona, Mies, and Corbusier Midcentury furniture in Amarillo, Texas For Sale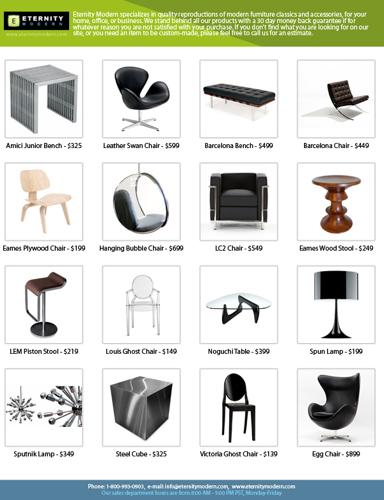 Seller:
Date/Time:05 Dec, 02:10 p.m. EST
Type: Furniture, For Sale - Private.

Call 1-800-993-xxxx for information or to place an order. All items include free shipping within North America, and come with a 30 day satisfaction guarantee. We'll send free leather samples upon request. Please inquire about other items which are available on a custom order basis. Shipments to Canada will be shipped from British Columbia, and shipments within the continental US will be shipped from Washington State. Visit us at:www.eternitymodern.com
We also sell the lem piston stool, louis ghost chair, spun lamp, egg chair, Barcelona Chair, living room furniture, sputnik lamp, inform, interior furniture, steel cube, inspiration, nood, modern furniture, barcelona bench, knoll reproduction, mies bench at affordable prices

Time: 09:57 a.m. EST
Date: 04 Mar

Price: $178
Time: 09:30 a.m. EST
Date: 04 Mar

Ninja coffee maker
It's the as seen on Tv Ninja coffe maker. This is less than a month old Only used about 25 times to make one cup of...
Price: $100
Time: 06:03 a.m. EST
Date: 04 Mar

Butterball electric fryer
Perfect condition ...used twice. Fried Thanksgiving turkey. You can fry anything in this thing. Here is a link...
Price: $65
Time: 02:07 a.m. EST
Date: 03 Mar

Custom Texans Crawfish Tables
We make custom anything out of wood. Just lmk what you need and how you want it. This is a 4X8 crawfish table. Simply...
Price: $250
Time: 03:53 p.m. EST
Date: 02 Mar

Price: $1
Time: 03:13 p.m. EST
Date: 02 Mar