Barcelona, Mies, and Corbusier Midcentury furniture in Amarillo, Texas For Sale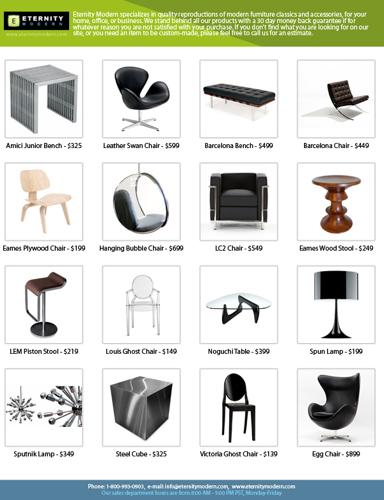 Seller:
Date/Time:05 Dec, 02:10 p.m. EST
Type: Furniture, For Sale - Private.

Call 1-800-993-xxxx for information or to place an order. All items include free shipping within North America, and come with a 30 day satisfaction guarantee. We'll send free leather samples upon request. Please inquire about other items which are available on a custom order basis. Shipments to Canada will be shipped from British Columbia, and shipments within the continental US will be shipped from Washington State. Visit us at:www.eternitymodern.com
We also sell the lem piston stool, louis ghost chair, spun lamp, egg chair, Barcelona Chair, living room furniture, sputnik lamp, inform, interior furniture, steel cube, inspiration, nood, modern furniture, barcelona bench, knoll reproduction, mies bench at affordable prices

Price: $3,213
Time: 02:55 a.m. EST
Date: 30 Nov
Iron stair parts
Welcome to Baluster Store. We are an online vendor of high quality - powder coated iron stair parts. Our mission is...
Price: $3
Time: 02:55 a.m. EST
Date: 30 Nov

Vendo CARPAS Varatas
ENVIAMOS A TODOS LOS ESTADOS. * CARPAS de cualquier medida *SILLAS *MESAS *MANTELES *BRINCOLINES *PISTAS DE VAILE...
Time: 02:45 a.m. EST
Date: 30 Nov

Antique side chair
23.soft seating in good condition for sale feel free to call Randolph Office Furniture 713 224 7600 WE CAN DELIVER
Price: $150
Time: 02:40 a.m. EST
Date: 30 Nov

Price: $75
Time: 02:33 a.m. EST
Date: 30 Nov

Black cube granite
4.Fair condition for office or home feel free to call Randolph Office Furniture 713 224 7600 We Can deliver
Price: $300
Time: 01:46 a.m. EST
Date: 30 Nov